Windows XP Server 2003 Overview
In September 2001 Microsoft released an upgrade to Windows 2000 Professional called Windows XP Professional.  Windows XP comes in four variants, Windows XP Professional, Windows XP Home Edition, Windows XP Media Centre Edition and Windows XP Tablet PC Edition. Unlike Windows XP Professional, Windows XP Home Edition has limited networking support and is designed solely for home users.
Windows XP Professional offers all of the features of Windows 2000 with many improvements. Windows XP Professional can easily integrate into existing Windows 2000 networks.

Use the buttons below to navigate through the lesson
In April 2003 Microsoft released the Microsoft Windows Server 2003 family as an  upgrade to Windows 2000 Server. Windows Server 2003 offers improvements over Windows NT 4.0/2000 server products. These include many security and reliability enhancements.
Windows XP/Server 2003 represents Microsoft's shift towards the more stable and secure NT kernel.  Windows Server 2003 provides enhanced security and control over networks using a feature called Active Directory. This enables companies to reduce running costs and improve work performance.
Active Directory
Active Directory is a fundamental features of Windows 2003 domains.  Active Directory is essentially a detailed database containing information about every object on the network. These objects include computers, users, groups, printers and even shared folders.
This feature might seem of little importance until you look at how this information is organised.  Active Directory can group objects and place restrictions upon them, for example a group of users might be restricted from using the control panel.  Essentially every object can be controlled and similar objects may be grouped into manageable units. As you will later learn Active Directory greatly simplifies network administration.
IntelliMirror
Windows 2003/XP networks use a feature called IntelliMirror.  IntelliMirror allows users to move freely around the network whilst maintaining their own settings, preferences, applications and documents.
For example a user's desktop wallpaper will follow him from machine to machine.  The benefits of IntelliMirror and Active Directory can only be fully utilised on Windows 2000/2003/XP networks.
Enhanced User Interface
Windows XP has an enhanced user interface where many common tasks are grouped into easy to find locations. This makes Windows easier and more pleasant to use.
The Microsoft Management Console
Windows XP/2003 also provides a utility called the Microsoft Management Console (MMC). The MMC provides a single, consistent interface for all aspects of administration. Applications built for Windows 2003 such as Exchange Server also use the MMC. The MMC can also be used to manage other machines on the network running Windows 2000/2003 and XP. This eases the job of the Administrator who doesn't have to present himself physically at each machine, thus improving response times and reducing the general administrative load.
Remote Desktop Connection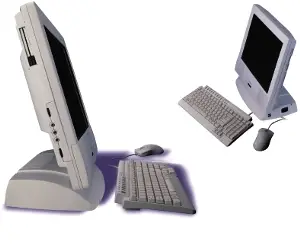 Windows XP/2003 contains a feature known as Remote Desktop which enables a computer running Windows XP/2003 to be remotely controlled or viewed over a network.  Remote Desktop Connection is useful since it allows an administrator to troubleshoot a user's problems remotely, thus helping to improve response time and increasing productivity.
Internet Information Services
Windows Server 2003 ships with Internet information Services v6.0 (IIS). IIS allows a computer to securely host web based services such as Web and FTP Sites. Unlike Windows 2000, IIS is not installed by default on Windows Server 2003.  Windows XP Professional also includes a limited version of IIS that can host a single Web or FTP site.
Storage Options
Windows Server 2003 provides a feature called Shadow Copy. This feature stores point-in-time versions of files in network shares. This allows an administrator to view or recover folder contents as they existed at certain points in time.  Windows XP/2003 allows a user to directly copy files to a CD-R without the use of any third-party CD-Burning application.
ClearType Support
Windows 2003/XP supports anti-aliased fonts using the Microsoft Cleartype technology. With Cleartype technology text becomes sharper and brighter, especially on Laptop displays.
Microsoft Windows Server 2003 Overview
As a network administrator you will need to know which product to use in a certain situation. This is important as the cost of different Windows Server 2003 OS's differs considerably.
Windows Server 2003 Web Edition; Designed solely as a Web Server.
Cannot function as a Domain Controller. Can act as a File/Print or Web server
Windows Server 2003 Standard Edition; Supports Active Directory. Used in small to medium environments. Ideal for File and Print services
Windows Server 2003 Enterprise Edition; Supports Active Directory. Used in large organizations. Ideal for Application/Web servers
Windows Server 2003 Datacenter Edition; Supports Active Directory. Used in very large organizations. Ideal for Database Servers (SQL)
Windows 2003/XP Capabilities
Each version of Windows Server 2003 has varying capabilities. Below is a list of those capabilities that may be supported in one version but not in another.
Network Load Balancing
Clustering
Symmetric Multiprocessing (SMP)
Pre-emptive Multitasking
Remote Access
Network Load Balancing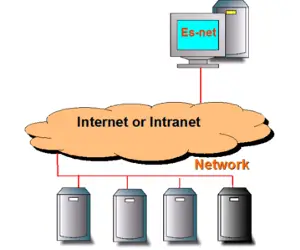 Network Load Balancing is a feature of Windows Server 2003 Enterprise/Datacenter. This allows network traffic to be distributed between servers each running the same website. Up to 32 machines can be linked together using the same IP address.
If a machine fails, no clients will be connected to it until it is restored. The service to the client remains unimpaired throughout. As the client may connect to one of the other machines
Clustering
Clustering means having more than one server dedicated to running a particular application. This is only supported in Windows Server 2003 Enterprise Edition and Windows Server 2003 Datacenter Edition.
There are two types of clustering:
1. Active/Active
2. Active/Passive
Active/Passive Clustering
In Active/Passive Clustering, One machine is running an application, while the other sits quietly watching it. In this format, all machines in a cluster are connected to an external hard-drive. The fact that the passive server merely waits in case of a failure, this can be a very expensive implementation.  If the active machine fails, the passive machine takes over the running of the application from the failed machine. This is known as Redundancy.
Active/Active Clustering
Here, both machines are running different applications. However each machine constantly monitors the other. If one of the servers fail, the other machine will take over whatever application the failed machine was running providing fault tolerance.
Multi-Processing
Some computers (especially Servers) need a lot of Processing Power. Installation of additional processors allows machines to perform more tasks and calculations in a given period of time.  There are two different types of Multi Processing, SMP and ASMP.
Symmetric  Multi-Processing (SMP)
An application is started and it's demands are spread evenly across both processors. A second application is started and it's demands are also spread evenly across both processors.
Asymmetric Multi- Processing (ASMP)
With this system one processor is dedicated to the computer's internal operations, including managing  the other CPU. The other CPU handles user applications.  An application is started and it runs solely on the first processor. Other applications are then started and will continue to run on the first processor.  Only when the first processor is fully loaded will another be processor utilised.
Multi-Tasking
Windows XP/2003 allows Multi-Tasking. Multi-Tasking allows the user to run multiple applications at the same time. There are two types of multi-tasking: Co-operative and Pre-emptive.
Cooperative Multi-tasking
This is the form of Multi-tasking found in Windows 95, 98 and NT. Subsequent processes rely upon either the first process finishing, or it choosing to share resources. Not only is this inefficient, it can be dangerous. If the first process hangs without completion it still retains those resources, then NOBODY gets to use the processor and a restart is usually required. When a process starts, it keeps hold of the processor's resources until it chooses to release them.
Pre-emptive Multi-tasking
This is the form of Multi-tasking found in Windows 2000/XP/2003.  In this system the operating system is responsible for the allocation of processor resources. Should a second process (also called a "thread") start before a first has finished, it is the OS which determines how much of the processor time is given to each thread. The Operating System's choices are influenced by the priority settings of each process.
Remote Access
Many people work away from their offices, so Windows provides the Routing and Remote Access Service, (installed by default with Windows 2000/2003 Server) which lets users connect to their office machines. The Routing and Remote Access Service (RRAS) allows a client machine to connect to the network from a remote location either using a standard dial-up connection or via the internet. Once the client has connected to the network from the remote location, he/she will be able to access the network resources as though they were on the same physical network.
Windows Server 2003 Capabilities
When designing and building networks you will need to evaluate the company's requirements and choose the right product for the right situation.  The following is a list of the the capabilities of Windows XP Professional and the four different versions of Windows Server 2003:
Supports 2-way SMP (Symmetric Multi-Processing)
Supports 4GB of memory (RAM)
Supports up to 10 client connections
Supports one RAS (Remote Access Server) Connection
Windows Server 2003 Web Edition's Capabilities
Supports 2-way SMP (Symmetric Multi-Processing)
Supports 2GB of memory (RAM)
10 Remote Access connections
File and Print Services
No 64Bit processor Support
Unable to function as a Domain Controller
Unlimited web connections
Windows Server 2003 Standard Edition's Capabilities
4-Way SMP (Symmetric-Multi Processing) i.e. 4 processors
Supports 4GB of Memory (RAM)
Unlimited Client Connections
256 RAS (Remote Access) Connections
No 64Bit Itanium Support.
5 connections to the built in SQL engine
Network load balancing
POP3 and SMTP mail server
Windows Server 2003 Enterprise Edition's Capabilities
8 CPU's (Intel 32-Bit), 8 CPUs (Itanium 64-Bit)
Supports 32GB of Memory (RAM), 64 GB of Memory on Itanium 64-Bit systems.
Unlimited Client Connections
256 RAS (Remote Access) Connections
Network Load Balancing
8-Node Clustering
Windows Server 2003 Datacenter Edition's Capabilities
32 CPU's (Intel 32-Bit), 64 CPUs (Itanium 64-Bit)- can be grouped to provide 128 way SMP
Supports 64GB of Memory (RAM), 512 GB of Memory on Itanium 64-Bit systems.
Unlimited Client Connections
256 RAS (Remote Access) Connections
Network Load Balancing
8-Node Clustering