How To Use Free Online Training Courses
What Happens next.
If you have added the email address tutor@free-online-training-courses.com to your safe list, white list, contacts or added the filter in gmail you will now receive another email from us, this will be your first group of lessons.
These lesson provide some background into the applications we will be teaching you about in the next and future course modules.
The email will look something like this.
The logo depicts which modules this email belongs to:
This for Spreadsheets, this for Word Processing, Presentations, Databases, and this one for Web Editing. This will help you keep track of which course the lesson belongs to, particularly if you are taking multiple courses.
Clicking the button marked "Start Lesson" will take you to the lesson page of the web site.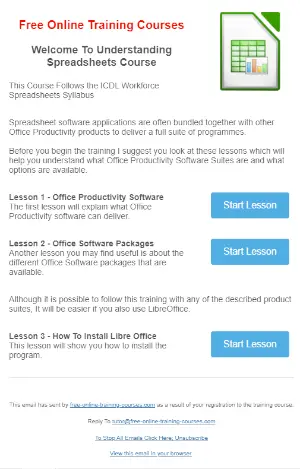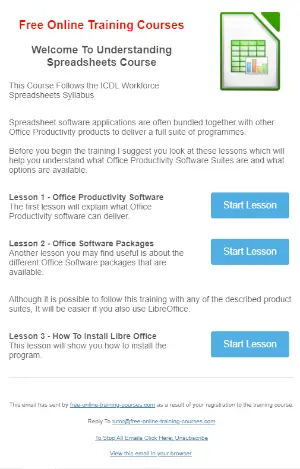 Then every few days you will be sent another lesson, they will look like this:
The course logo, Course Module and lesson title, then a summary of the topics covered in this lesson. And a button to press to take you to the lesson page of the website.
If the buttons do not work because your network has blocked links, copy the URL shown here and paste into your browser.
If the email is not showing correctly on your system, you can click the link at the bottom to see a web version.
This course follows the ICDL (International Computer Driving License) Workforce Spreadsheets Syllabus. This information will help you track where in the ICDL course this lesson belongs.
Certificates
At the end of the course, about 20 lessons, there is a quiz.
Take the quiz by clicking on the answer you think is correct, when you have answered all questions enter your name and email address and your results will be sent to you.
If you score 70% or more on the quiz the email will contain a link that will allow to download a certificate. This is in PDF format and you can save or print it. The name on the certificate is what you typed into the online form at the end of the quiz.
This certificate is for your own personal use only, it is NOT a recognised qualification.
ICDL
For an international recognized qualification on this topic I recommend you find your local ICDL training and examination centre, here the local representative can advise you on availability of training and professionally managed exams. Although these courses follow the ICDL syllabus we are not connected with them in any way and oyr lessons have not been approved or sanctioned by ICDL.