Multi-Language and Regional Support in Windows XP
Windows XP/2003 can support multiple languages. With multiple language support installed documents can be created and read in foreign languages.

Use the buttons below to navigate through the lesson
Microsoft provides localized editions of Windows XP/2003. For example users in Japan can buy a Japanese version. There is also a Multi language version of Windows XP/2003 which provides user interfaces in a number of different languages. This is useful in a multinational organisation where users speak different languages but must use the same computers.
When using a multi language version of Windows XP/2003 you must specify which languages to use. Windows XP/2003 uses approximately 45MB of disk space for each language installed. Multiple language support can be configured by using the Muisetup.exe utility from a command prompt.
N.B. Muisetup.exe will only work on multi language versions of Windows XP/2003.
Code Pages
Traditionally computers have used tables called code pages.  A code page is a table of characters. Each character has a number. Due to the way a computer works a code page can have a total of 256 numbers.  A single code page doesn't contain enough characters to support all the possible characters in all possible languages.
Because of this computer systems use different code pages for different languages.  In order to be able to read and write with other characters the correct code page/pages will need to be installed on the system.
In a system which uses code pages, a program will need to know two pieces of information to correctly display a character: the number of the character and the code page to use.  Since different languages have different code pages, problems may arise when a user is viewing a document intended for a different code page. The document may then be unreadable.
Unicode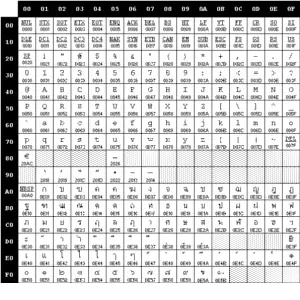 Because of these limitations a standard was introduced known as Unicode.  Unicode is an international-standard character table that has extra characters that don't appear in the standard ASCII (American Standard Code for Information Interchange) character set. This works because unlike ASCII codes, Unicode uses a double-byte character code. This means that Unicode can support more than 256 characters in a set.
Windows XP/2003 and 2000/NT 4.0 all support Unicode version 2.0, which has around 40,000 possible characters. Windows 95 and 98 however do not.
To configure language options the Windows regional options utility is used. Click on Start.
Select Control Panel.
Select Switch to Classic View to enable all Control Panel options.
Select The Regional and Language Options icon.
The Regional Options Tab displays which Standards and Formats are currently used. Click on Customize to fine-tune these settings.
The Numbers tab allows you to configure how numbers are displayed on the system.
The Currency Tab allows you to configure how currency is displayed by the system. e.g. A French user would change these settings to use Euros.
The Time Tab allows you to configure how the time is displayed.
The Date Tab allows you to configure how the Date is displayed.
Click on OK to close the Customize Regional Options dialog box.
Select the Languages Tab to configure the Keyboard Layout and Languages used by the system.
Select the Details button to view or change the languages and input methods used.
Currently the UK and US input languages are installed. Click on Add to add an additional input language.
Select your choice from the drop-down list.
For Example French(France) for a French user.
Click on OK to add the new French input language.
French support has now been added to the computer. N.B. This will not change the user interface to French but will allow the use of French characters and French keyboards.
The Input language can be changed at any time by clicking on the language bar on the taskbar.
Troubleshooting Regional Options
On a machine with multiple languages and locales installed, problems may sometimes arise. You should ensure that, when adding additional languages, the computer and applications are restarted.Verify the applications you are using support Unicode. If they don't you may need to change the system locale from the regional options. When moving documents between PCs, ensure that both have the same language groups installed.