Every Installation of Windows requires a license. You also need a Client Access License (CAL) for all clients that attach to a server over the network. Licenses aren't required for Internet Information Services (IIS), Telnet and File Transfer Protocol (FTP) connections.
This information is specific for Windows Server 2003 – you should check the official Microsoft information for any up-to-date licensing. But the information here will give you an idea of roughly how you might expect licensing to work, and help you to understand software licences a little more.

Use the buttons below to navigate through the lesson
Licensing Modes
Per Server Licensing Mode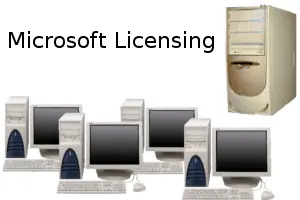 The Per Server licensing mode requires a license for each concurrent connection to a server.
4 Client Access Licenses (CALs) required.
The key here is that the server holds the licenses. If it only held 3 licenses only 3 of the 4 clients could connect at any one time.
Per Seat Licensing Mode
The Per Seat Licensing Mode requires a license for each client accessing a server (This can be any Windows Server)
4 Per Seat Licenses (CALs) required or 12 Per Server Licenses.
The clients hold the licenses. A client with a per seat license can access any Windows 2003 Server