We Need To Confirm Your E-Mail Address
To complete the registration process, click on the link in the E-Mail we sent you.
Please Check Your Spam Mailbox
Welcome to Free Online Training Courses, as the name suggests this is a training and tutorial web site that is completely free and available to everyone. Our goal is to provide knowledge and skills to all regardless of their ability to pay.
If you own a computor or use one for work then you will know that they contain a number of applications that can make your work or home life easier.
One of the most useful of these applications that can help you manage data and information is a spreadsheet. This course will start by installing a spreadsheet application, in this case LibreOffice for your desktop or Collabora for your mobile. The course will take you from being a first time user to an expert.
What happens next.
You are seeing this page on our website because you have just registered for the training the first module and a good place to start for beginners is about spreadsheets, what we need to do before we can start is verify that the email you have given us is the correct one, to do this we have sent an automated email to the address you entered into the form, in that email you will see a link.
Open the email and click on that link to confirm you still want to receive that lessons.
If the link does not work on your network, some network providers block their users from clicking links as a security measure, then simply copy the URL and paste it into your browser, then click enter.
We do this to make sure that the lessons go to the correct address and do not fill the inbox of someone who did not register if their address was mistakenly typed into the form.
We do this to adhere to the email best practice standards.
What happens if you do not see the email.
The confirmation email will usually arrive in a couple of minutes, some email systems, Yahoo in particular will delay the delivery of the email, this is because it is an automatically generated email, please be patient.
The first thing to check is your junk or spam folder, it may be in there. If so mark it as not spam and you will be able to click the link.
Add Free Online Training Courses to your email safe list or whitelist.
The way to do this is different for every email provider. On gmail for example there is not a specific whitelist but if you are using a smart phone add tutor@free-online-training-courses.com to your contacts list, this will let Google know you want to receive mail from us.
Alternatively if you are using the Gmail Website on a computer you can use a filter, in the search bar at the top of the window enter tutor@free-online-traning-courses.com, then click advanced search, at the bottom of the pop up window there is a button marked Create Filter, click this button and in the next popup tick the option "Never send it to Spam" and press Create Filter.
Your training emails will now always be delivered to your inbox.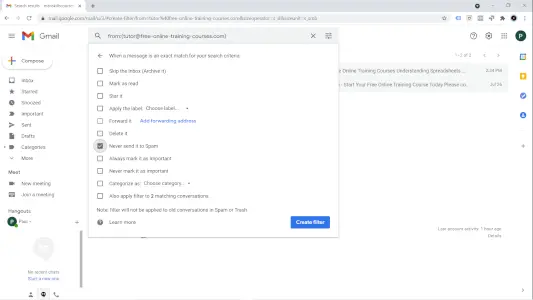 At any time you can click the link that appears at the bottom of each email we send and the course will be halted and no more emails will be sent. You can start the course again or start another course by re-registering at https://www.free-online-training-courses.com/course-selection/
As part of the privacy rules all emails are deleted within 3 months from the completion of the course, and immediately
Now find the email titled "Free Online Training Courses - Please Confirm Registration"
Click that link and start learning.