Welcome to Free Online Training Courses
The place where you can improve your earning potential and your career prospects.
Using WordPress to Build a Website
In this course you will learn how to;
Create and manage a test server
Install the WordPress software
Change it's function from a blog to a website
Configure a WordPress site
Add pages and content
Add dynamic content via widgets
Install themes to enhance the look of your website
Create a custom contact form
We will demonstrate how to create and manage a test server to install and configure a WordPress site on a local PC. For the purposes of this course all the demonstrations will be carried out on this test server, although the lessons could be completed on a fully functioning web server.
To follow the full training schedule leave enter your e-mail address below and press Register.
What Do You have To Loose? All The Training Is Free.

Enrol Now
It's easy to get started right away. Just enter your e-mail address in the form below and press "Enrol Me"
To help stop the e-mails being seen as spam please add tutor@free-online-training-courses.com to your address book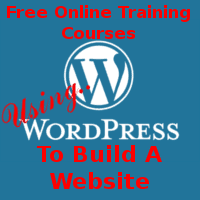 Worried about your e-mail being used to sell you stuff? Don't be, we have nothing to sell. Everything, lessons and courses, are Free Free Free.
If you want to stop receiving further new course information, simply click the link marked "unsubscribe" at the bottom of the e-mail and your details will be deleted from our database.
For further information please read our Privacy Policy