A virus scanner is possibly the most important piece of software that is installed on your computer. Protection from viruses is only as good as the last update. Out of date virus protection may as well not be on the computer; sometimes up to 100 new virus a month are released into the wild (term used to describe when a virus is on the internet) so up to date virus protection is a must. Virus protection should be updated at least once a week, or preferably automatically when connected to the internet. Virus scanners can be downloaded free from the internet so cost should never be reason for not having adequate protection.
The next section will deal with running a virus scan using AVG antivirus, a free virus scanner downloadable from the internet.

Use the buttons below to navigate through the lesson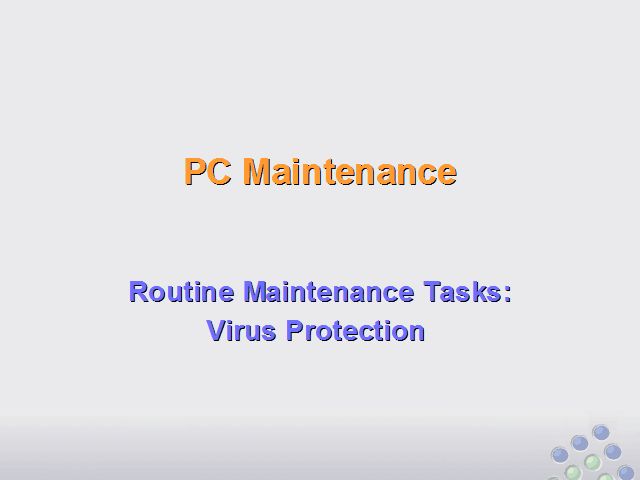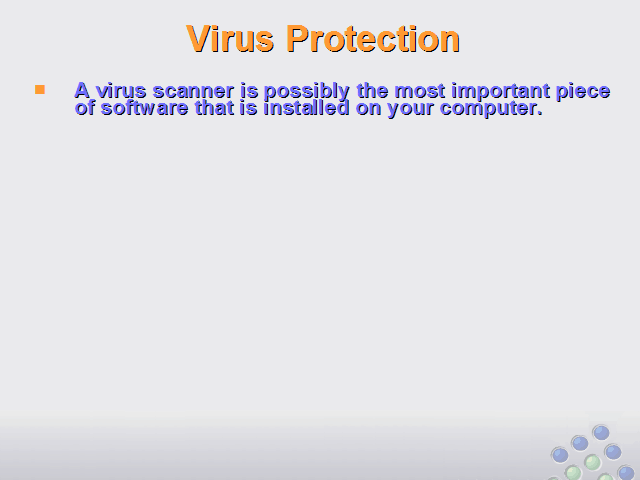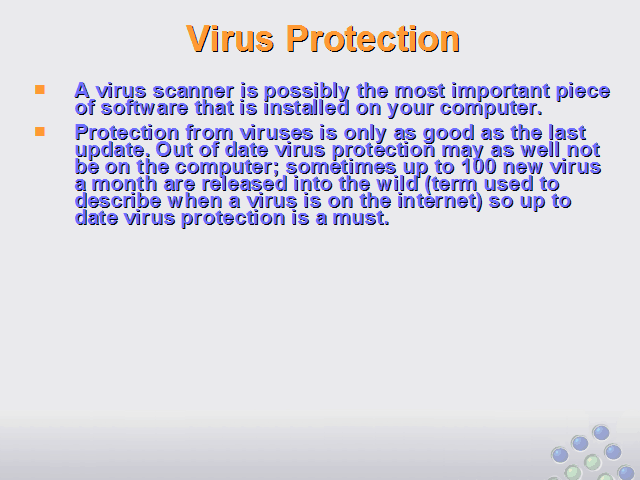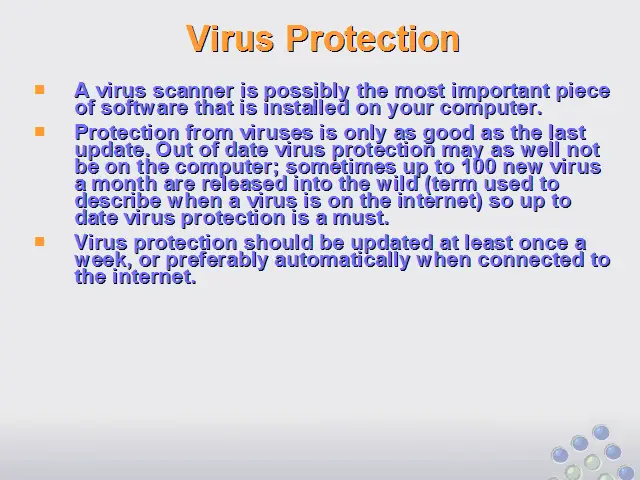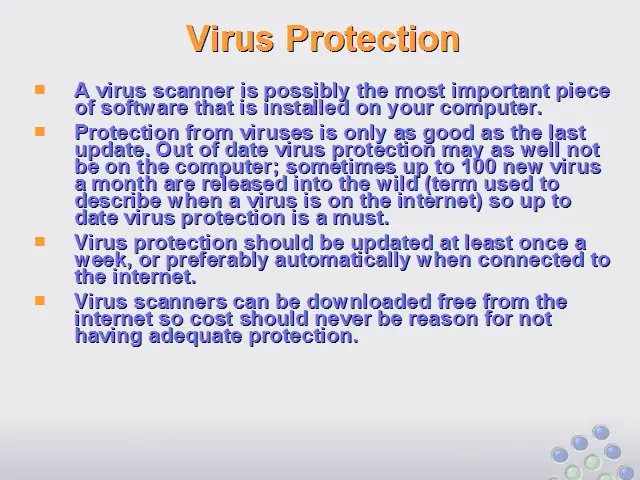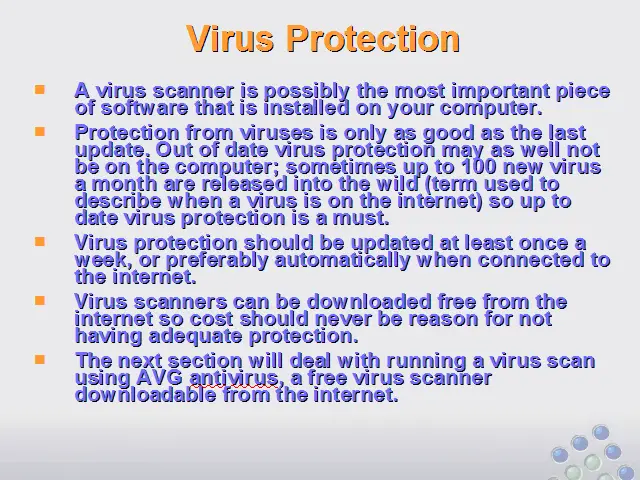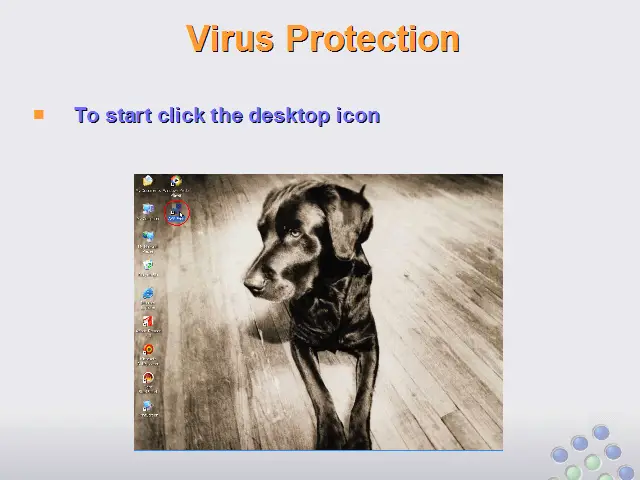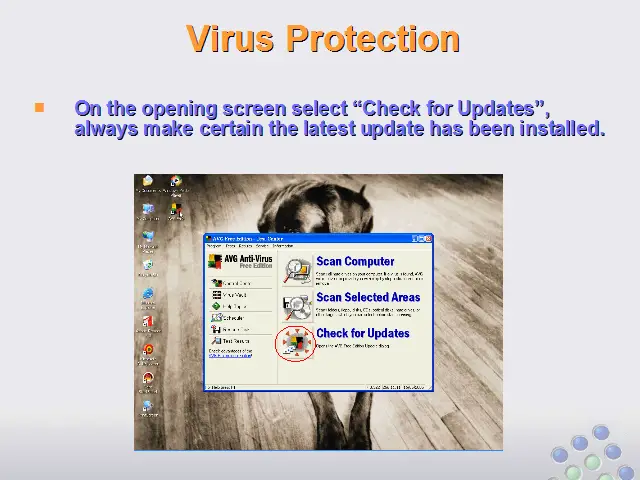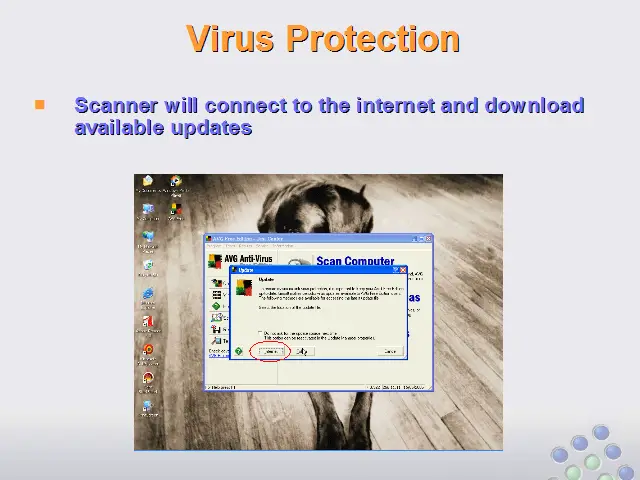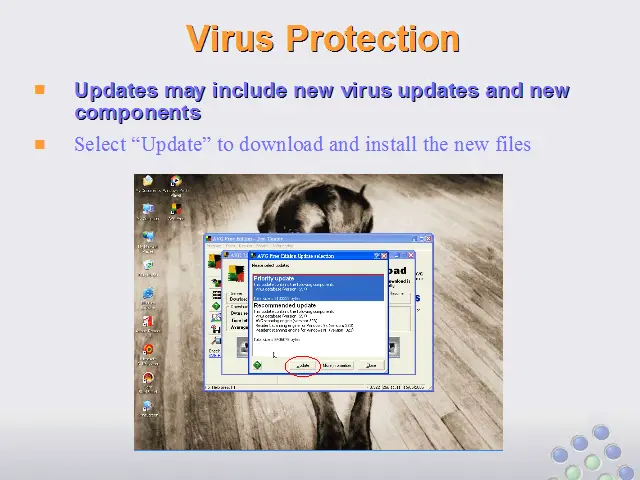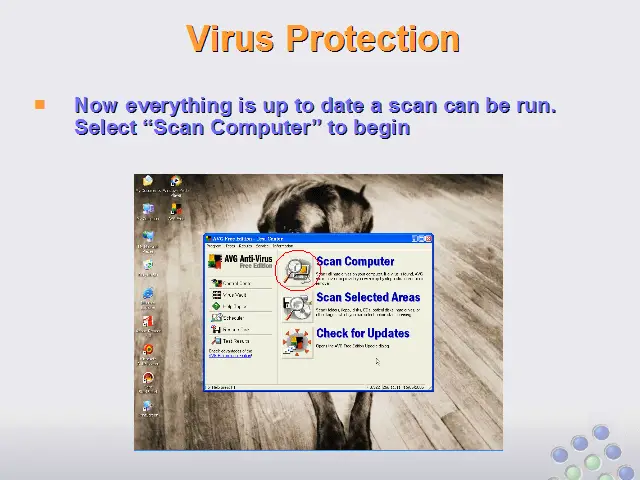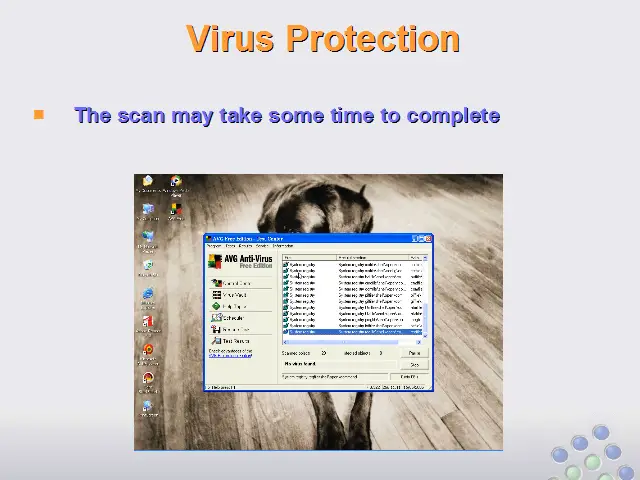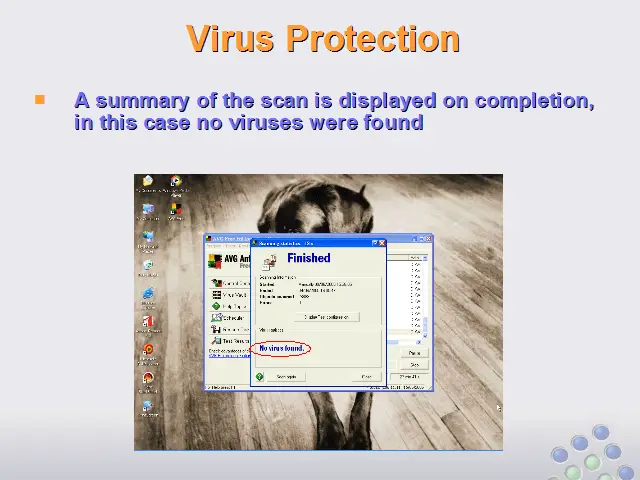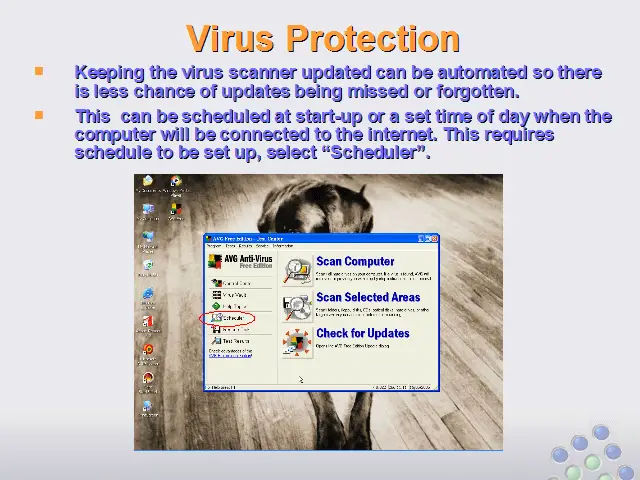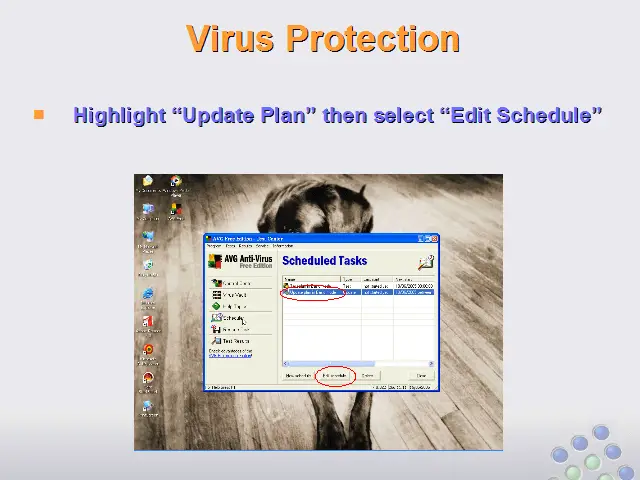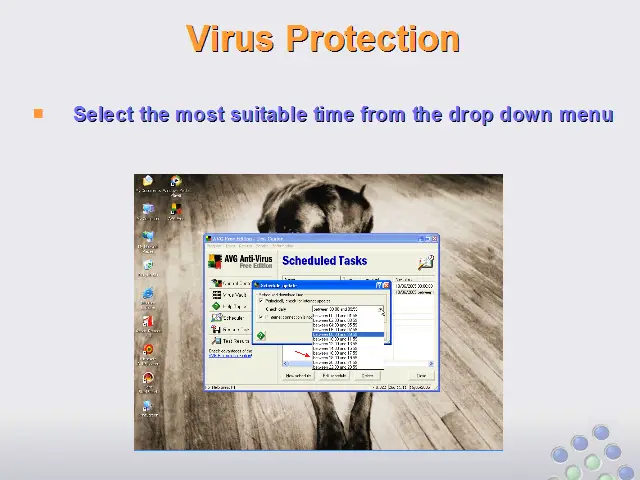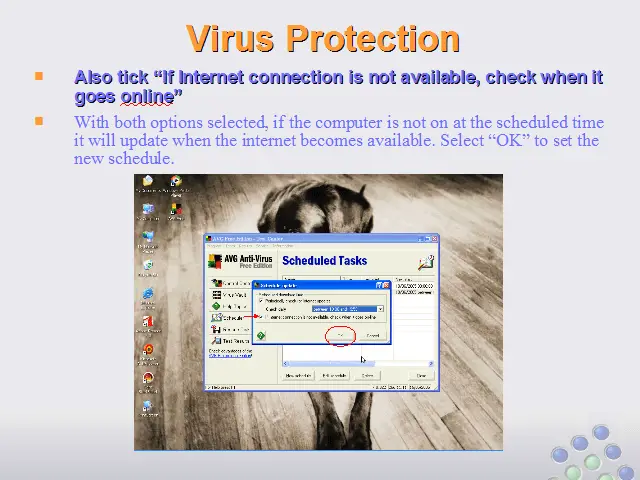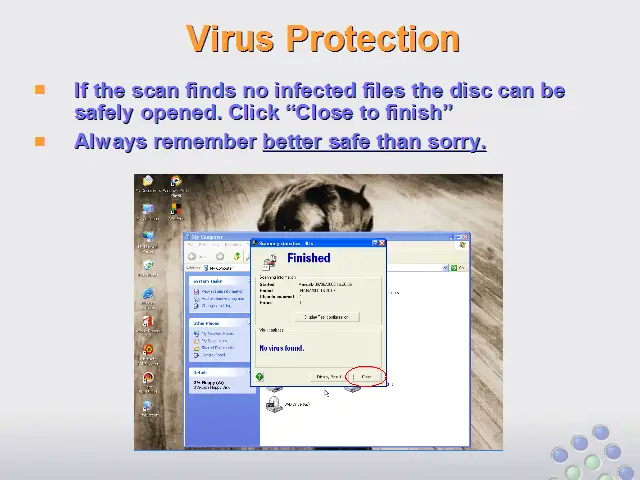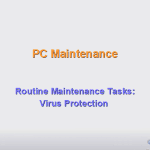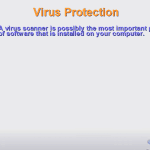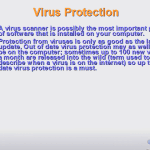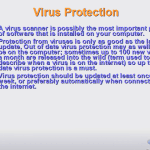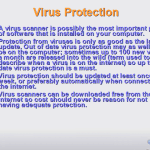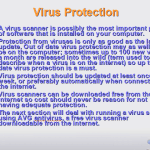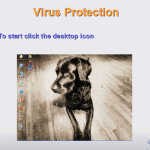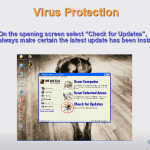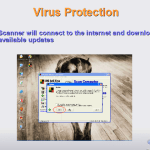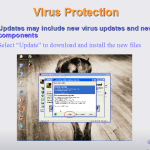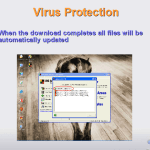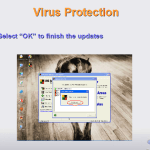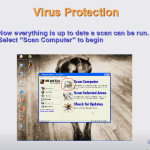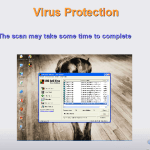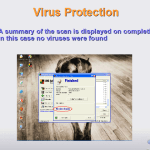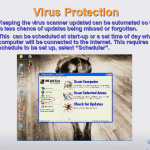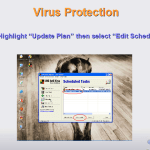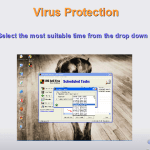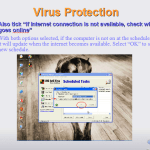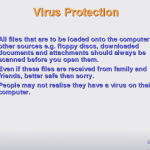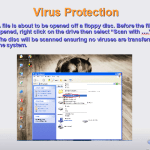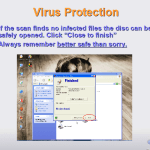 To start click the desktop icon
On the opening screen select "Check for Updates", always make certain the latest update has been installed.
Scanner will connect to the internet and download available updates
Updates may include new virus updates and new components
Select "Update" to download and install the new files
When the download completes all files will be automatically updated
Select "OK" to finish the updates
Now everything is up to date a scan can be run. Select "Scan Computer" to begin
The scan may take some time to complete
A summary of the scan is displayed on completion, in this case no viruses were found
Keeping the virus scanner updated can be automated so there is less chance of updates being missed or forgotten.
This  can be scheduled at start-up or a set time of day when the computer will be connected to the internet. This requires schedule to be set up, select "Scheduler".
Highlight "Update Plan" then select "Edit Schedule"
Select the most suitable time from the drop down menu
Also tick "If Internet connection is not available, check when it goes online"
With both options selected, if the computer is not on at the scheduled time it will update when the internet becomes available. Select "OK" to set the new schedule.
All files that are to be loaded onto the computer from other sources e.g. floppy discs, downloaded documents and attachments should always be scanned before you open them.
Even if these files are received from family and friends, better safe than sorry.
People may not realise they have a virus on their computer.
A file is about to be opened off a floppy disc. Before the file is opened, right click on the drive then select "Scan with …."
The disc will be scanned ensuring no viruses are transferred to the system.
If the scan finds no infected files the disc can be safely opened. Click "Close to finish"
Always remember better safe than sorry.